Last weekend I was invited to a party. But not just any party – a Radiant Orchid Party at the home of design/lifestyle blogger Kim of Design + Life + Kids. What is a Radiant Orchid Party you ask? Well, it was an afternoon garden party inspired by the color of the year: Radiant Orchid. It was too awesome not to tell you all about so here goes!
First, meet Kim. Writer at Design +Life + Kids – one of my most favorite blogs to read. One look at her photography, love for all things sleek and simple, and her adorable kids and you will be hooked too. And Kim certainly knows how to throw a party.
Upon entering I met up with some blogger friends, Heather from Diapered Knights and Steph from Modern Day Donna Reed and the host herself, Kim from DLK. We did a little pose in front of the dip dyed backdrop. Yes, that is right. The talented Kim hand dyed these strands of fabric for guests to take pictures in front of – so beautiful!
Together we made flower bracelets made from fabric dyed in Radiant Orchid and flowers from The Bouqs Co. – an online flower company that I have been using and loving and reviewed here, if you recall.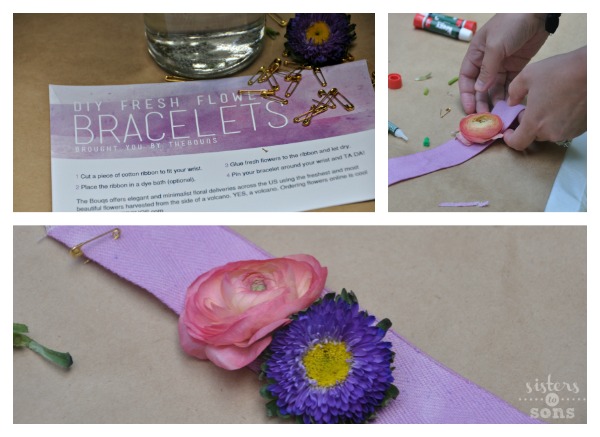 We put our creativity to the test while dip dying fabric in Rit Dye to make beach blankets. While some people had a strategy, mine was "free form" but still turned out nice! (Mine is back right corner with teal corner)
Throughout the remainder of the party, we moseyed throughout stations set up in Kim's backyard. My favorite was the hammock/swing station by La Siesta. This is a German hammock company that makes affordable, beautiful, vibrant hammocks and swings. Check out this one that Kim has INSIDE her house! We just put a swing on our porch and the kids are in heaven (and when they are sleeping, it is now my peaceful haven….)
We also tasted these gorgeous ombre tile cookies from Whipped Bake Shop. (Philly area people you need to check them out!)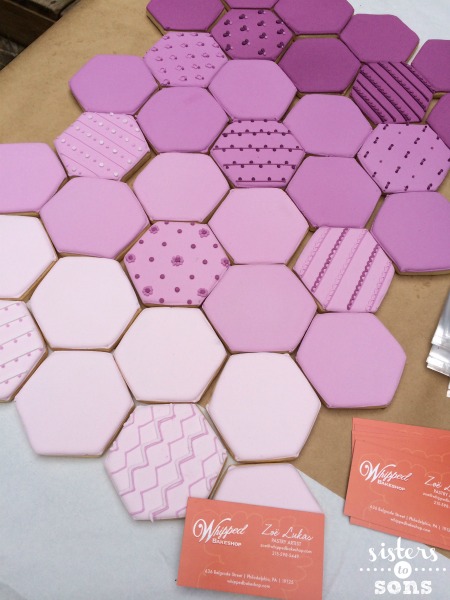 Sipped on the signature cocktail: Watermelon Slushie (with a touch of Pearl Vodka) made in our Zoku Slush Maker Mugs that we got to bring home. These mugs are seriously awesome – You put any liquid in the "magic" cup, scrape and stir, and voila! Slushy is created. I am glad I got to at least test this out because my kids have officially claimed this as their own (without the vodka, of course).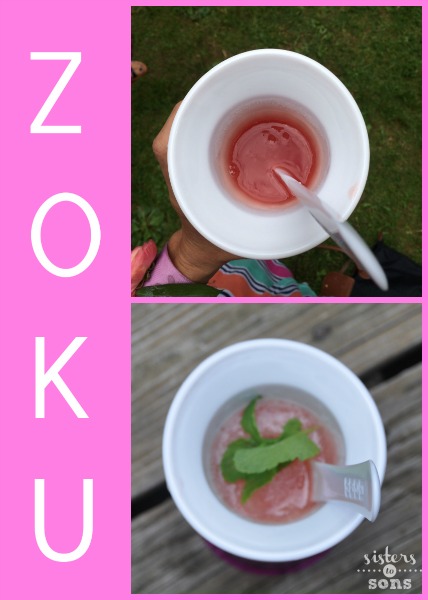 And if that wasn't enough, she had Brandywine Valley Brewing Collective create a special brew, Blueberry Wheat, that matched the color of the party: Radiant Orchid. This is a local brewery that I hadn't heard of before, but am following on Facebook now because who doesn't like beer that is local?
And throughout her backyard, Kim had lovely prints from Minted hanging on a clothes line…
…. and fun DIY books from Quirk Books perfectly displayed.
And if that is not enough, we left with a goodie BUCKET from Casabella (have you checked out their new NEON line of cleaning supplies?) filled with so much fun stuff including Rit Dye for my next project, DIY Pom Pom and Marshmallow books, a pearl necklace from Panache Box (an totally fun concept – think Stitch Fix for kids!), a fun gadget called a TAPI that turns a faucet into fountain from Dream Farms, Arbonne samples…. This print from Bing, one of the event sponsors:
…..and more! Thanks, Kim, for an inspirational afternoon!