This post is for all my readers who are local to one of my favorite boutiques in Wayne, Pa – Deconstructed Living. It is a one stop shop for eclectic home decor, vintage jewelry, accessories, skincare, candles, kiddie stuff- and this seriously amazing recycled canvas globe pouf. Seriously I'm dying over it. And as if I needed more reason to stop in, they now have clothing(!!!!). And it's good. So good. Audra, shop owner, invited me in to scope out the goods to share with you all. Not only did I love the "boho chic" concept, but the price point? Hear me out. There is only one thing (if my memory serves me correctly) that is over $100 in this entire post- and it's the black jumpsuit so naturally I was swooning over that one, but I digress. Let's check out the goods!
The Dresses
Easy, breezy denim embroidered pocket dress. Dress it up with fun espadrilles or dress it down with sneaks.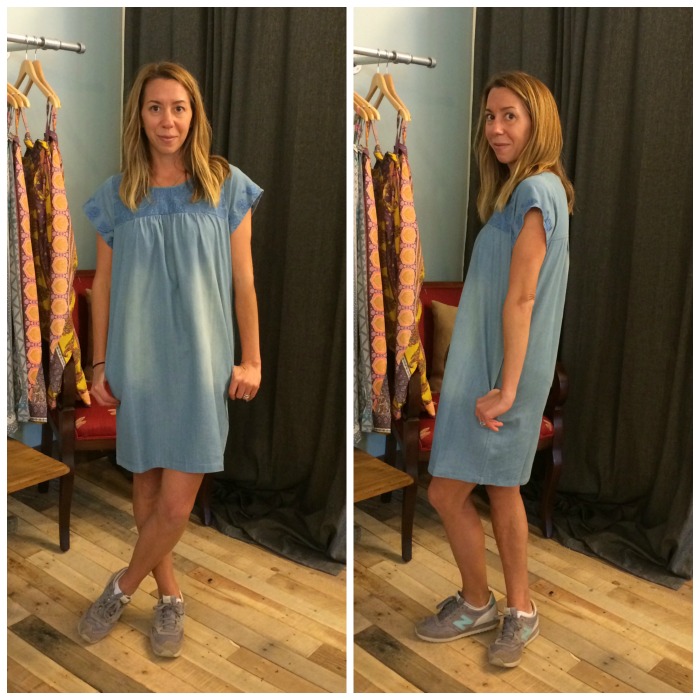 I fell in love with this black…. wait for it…. jumpsuit. Yes. It is a jumpsuit. Wears like a dress, but there are actually pant legs hidden in there somewhere. It drapes beautifully and belting it off is another option. More pics of this dress below, because I had to take it for a road test in Miami. And that necklace –  it was really hard for me not to buy that. Really hard.
Next up is the Aztec Maxi – lightweight and super easy to pack – yes, this came to Miami with me as well. Table for 2 (pictured on right). Super fun print and the perfect length to wear with flats (and a top knot because why fuss with your hair when your dress is that eye catching?)
Fun, flirty swirly tunic. Endless ways to wear: With or without (!) pants – on the shoulder or off… and that necklace, oh, Audra, you have such a good eye for accessories. 
Statement Tops
Ok the idea behind all the tops in the shop is that the top is really all you need. We all have jeans; we all have black pants etc… Sometimes we just need a fun top to make the outfit. And DL, no doubt, has something for everyone.
Starting with a fringe overlay – because we all need at least one piece that is trendy.
Skull tee – Edgy yet vibrant. Love this tee (and it came home with me). It's soft and slouchy and gives you something to talk about. Wear it with cutoffs, black skinnies, under a blazer, or tie up the back and pair it with a denim mini. (You'll have to excuse the shorts I am wearing. Love them, but did not come to this "photoshoot" totally prepared.)
Like I said, the top makes the statement. Leather ruffled sleeved top and a laser cut tunic tank. The end.
It's hard to tell in the picture, but the laser cut top is longer in the back, you can wear a cami underneath for more coverage. Pairs great with white summer crops.
The Bottom Half
I fell in love with these high waisted print shorts. You can go all out with the full tuck, or even pull them down to waist height (the back has elastic so you can wear them both ways) and the tiniest bit of fringe to remind everyone that you are in-the-know of this season's trends.

These casual joggers are so much fun. The vertical stripes are super cute and not to mention super slimming. And where would you actually wear these, you ask? The bus stop, the beach, to bed… need I go on?
Road Test

So I brought the black jumpsuit to Miami and wore it to get sushi across the street from our hotel – because I had no kids with me and I could! And had to pose for a picture with Stella. You know, because I found it humorous that the dress I am wearing probably costs as much the armhole on one of her dresses.
But who has to know?
Thank you so much to Deconstructed Living for having me in to have a look-see at your new clothing boutique!
If you love these goods (and this is just a sampling.. there's more), head on over and present this coupon. Buy one get one half off. High fives all around.
This post was sponsored by Deconstructed Living. All opinions are my own.